After Pacquiao defeated Miguel Cotto, the fans chanted "We want Floyd, we want Floyd, we want Floyd." Get ready for the next exciting battle of the century. Pacquiao vs Mayweather is almost on.

Some analysis on this fight, there is no other fighter left for Pacquiao to face in the welterweight except Floyd Mayweather Jr. Both Bob Arum and Richard Schaefer are ready to set the fight.

Talks for Pacquiao-Mayweather fight on

Formal negotiations for a possible mega showdown between Manny Pacquiao and Floyd Mayweather Jr. by next year are now being slowly laid down.

In a report by ESPN.com, Top Rank Promotions big boss Bob Arum and Golden Boy Promotions CEO Richard Schaefer are set to meet over lunch Monday at the MGM Grand in Las Vegas in what serves as the preliminary talk for the fight the whole world is waiting for.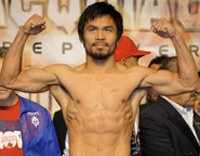 Manny Pacquiao shows his form during the weigh-in for his fight with Miguel Cotto recently. AP

Arum holds the promotional rights on the 30-year-old Pacquiao, the pound-for-pound king fresh from a remarkable 12-round technical knockout of Puerto Rican Miguel Cotto last Nov. 14 for the World Boxing Organization (WBO) welterweight title.

Mayweather is not under contract with Golden Boy Promotions, although Schaefer is representing him in the negotiations the way the former bank executive-turned-boxing official did in his last three fights.

Schaefer admitted he's been given the go-signal by Mayweather Jr. to explore the possibility of doing the bout, projected by many to be the biggest in the history of prizefighting.

"Floyd and me want to see if we can get the fight done," Schaefer said. "The fact that I am flying to Las Vegas to meet with Bob shows you how serious our side is about making the fight."

"Bob and I will approach this without egos and try to get it done under fair terms. Floyd gave me his marching orders and I will see today how it goes and report back."

Arum didn't deny about the scheduled meeting with Schaefer, but would not expound further on the matter.

"I can confirm I am meeting with Richard, but I'm not going to talk about the specifics," Arum said. "It's a meeting where we will try to make the fight. Whether it can be made or not in this meeting, I don't know. We'll see what we will see."

Confidential discussions

Both Arum and Schaefer agreed not to talk about what would transpire during the talks, and would rather comment on the result of the negotiation once a deal – or no deal – has been worked out.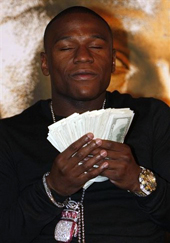 Mayweather Jr. nowboxing.com

"As part of the negotiations both Bob and I had to agree to keep all discussions confidential," Schaefer said. "No further comments will be made until such time that we either have a deal or the negotiations fall apart."

Pacquiao and Mayweather Jr. recorded the two biggest fights in the year about to close.

The Filipino boxing champion's duel with Cotto was a pay-per-view hit with 1.25 million buys, generating more than $70 million in domestic television revenue.

It came two months after Mayweather Jr. came out of a short-lived retirement and beat Mexican Juan Manuel Marquez in a lopsided 12-round unanimous decision.

The non-title encounter generated 1.05 million buys on pay-per-view.

Mayweather Jr's high-profiled title fight with retired ring legend Oscar De La Hoya in 2008 holds the all-time pay-per-view record with 2.44 million buys.
- GMANews.TV

If the fight will happen, it will probably be the biggest PPV in the history of boxing. After the contracts are signed, Pacquiao vs Mayweather will happen.


Source